How does technology help the medical field?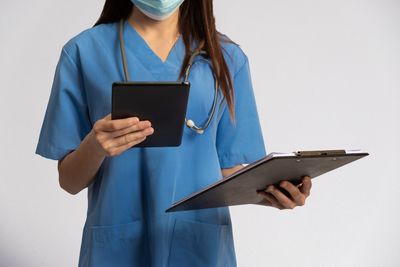 Technology plays an important role in improving the quality of life of millions of people around the globe. In addition, it helps the medical community to improve their practices and deliver better care.
What type of technology is used in healthcare?
Healthcare uses various types of medical technologies such as electronic health records, telemedicine, mobile health apps, and artificial intelligence. Healthcare technology is used for diagnosis, treatment, monitoring, prevention, education, research, and administration.
Why is technology important in the medical field?
Medical technology has revolutionized the health and medicine industry. Medicine today wouldn't be the same if it wasn't supported by the latest advancements in technology. In the last 10 years, we have seen the healthcare industry develop significant improvements in treatments, medical devices, data collection, symptom and disease research, and much more.
New technological breakthroughs and innovations have become an everyday occurrence, and this trend shows no signs of slowing down. Additionally, technology in healthcare has allowed a larger number of people to have access to medical services. Healthcare professionals can take better care of patients and treat diseases more effectively.
Medical technology development for entrepreneurs
What are the benefits of technology in healthcare?
Technology has substantially improved medicine. Healthcare providers are now able to diagnose diseases at an early stage, treat patients remotely, and provide better care for those who need it.
Improved patient care
From electronic health records to health-tracking devices, doctors and patients today have access to more effective methods of healthcare than ever before. For instance, a patient's electronic health records can be accessed from any medical facility. This lets a doctor assessing a non-local patient have a comprehensive view of their medical history.
Enhancing public health
Not only is medical technology creating new and more efficient healthcare experiences, but it is also responsible for advancing our knowledge of diseases and how to prevent them. For example, standardized health IT systems can be used to identify the spread of outbreaks and enable preventative measures, such as increased vaccine production.
Simplified workflows
The introduction of data and AI systems to healthcare has drastically lessened the time and effort it takes to run administrative duties. Instead of having to sift through endless piles of paper, patient records can be easily accessed digitally, thereby increasing efficiency, productivity, and ease of use. Likewise, AI solutions can automatize mundane and repetitive tasks to make them instant and free from human error.
7 ways technology is helping the medical field
1. Increasing the effectiveness of treatments
In the eyes of healthcare experts, one of the major benefits of technology in healthcare is the increased effectiveness and accessibility of treatments. The combination of medicine and IT has led to the development of new discoveries and more focused approaches to research.
Data gathering has played a major role in the improvement of modern medicine. Data from medical records, electronic devices, apps, and artificial intelligence models can be used to train software solutions to accurately assess patient risk and recovery.
Modern artificial intelligence software can be designed to simulate human thinking patterns and actions. This includes being able to review patient survey answers to connect them with the appropriate healthcare provider or professional. This minimizes the amount of time and effort a patient needs to contact the right doctor while making the tasks of clinicians easier to perform.
2. Medical technology improves the prescription process
Patient adherence has been a major challenge for the healthcare industry as well as a considerable economic burden. According to research, up to 40% of patients are at risk of failing to adhere to treatment recommendations (source).
While it is essential for all patients to receive the right prescriptions and use the right dosages, implementing a unified system to store relevant prescription data has been a complicated process. However, thanks to widespread access to health records in digital form, this process can be streamlined, accelerated, and periodically renewed.
Many healthcare-oriented startups have developed applications that send patients notifications to their mobile devices whenever they have to renew their prescriptions. Mobile apps can be designed to renew prescriptions from within the app. Additionally, some pharmaceutical companies give doctors the ability to digitally visit their patients from a mobile app.
3. The digitalization of health records
The main focus of technological advancements in medicine is patient care. Medical researchers have made ample advances in providing doctors with more reliable machines and software applications. When used in unison, these technologies give medical professionals the capacity to record real-time patient data.
By using tablets and mobile devices, doctors can now swiftly update a patient's chart and instantly update their medical history. This way, a centralized database containing lab results, records of vital signs, and other electronic health records can be easily updated and accessed every time it is needed.
This level of information storage has substantially enhanced the way doctors treat patients. Moreover, the same data put in the hands of medical scientists and researchers can be used to identify common trends in patient histories to further advance the methods used to treat different diseases.
4. Enhancing medical efficiency with software
The implementation of software has proven to be extremely important for the future of healthcare. Not only is software spearheading a change in clinical workflows and operations, but it also gives medical providers improved data access and consistent monitoring capabilities.
By using digital technology, the World Health Organization (WHO) is now able to categorize ailments, including their causes and symptoms, into a database containing over 10,000 individual codes. This wide variety of information can be used by medical professionals to study medical conditions more thoroughly to find solutions that will help control illnesses while also providing more efficient care.
Start investing in healthcare technology
5. Creating streamlined patient-doctor interactions
The days of making doctor appointments via phone calls and having to deal with long waiting times may be gone. Nowadays, due to the vast proliferation of healthcare-based mobile apps and virtual doctor visits, one is able to set up a consultation without even having to leave the comfort of their bed.
6. Introducing robotics in medical treatment
The idea of robots being used to perform surgery on humans may have been seen as far-fetched just some years ago, but it has now become a reality. The dexterity and prowess of a human surgeon can only go so far, and proclivity for human error can always be a pressing concern. Robots can assist in reaching the most difficult-to-access areas of the human body and deal with more complex operations.
One example of this is robot-assisted brain tumor removal procedures. Medical robots can be designed to have small but sturdy arms and be equipped with GPS technology that lets surgeons know where their tools are located. Likewise, heads-up displays and high-tech robotic microscopes give surgeons a superior view of the areas they are operating.
The global medical robotics system market size, which was valued at USD 16.1 billion in 2021, is expected to reach USD 76.4 billion by 2030. Contributing factors for these figures include higher per capita healthcare spending, the growing need for surgical procedures for elderly patients, demand for accurate laparoscopic surgeries, and a rise in cases of trauma injuries (source).
Besides helping save lives, medical robots have been proven to make certain surgeries less invasive and reduce labor costs. Certain healthcare facilities have even begun to use disinfectant robots to perform cleaning duties and take food to patients' rooms.
7. Using data to predict disease outbreaks
Data can be used to review many aspects of healthcare that are imperceptible to the naked eye. AI-based data analytics and predictive models can review large volumes of patient and disease data in the blink of an eye, helping medical experts better understand and study diseases.
For instance, machine learning models have been used to monitor the outbreak of infectious medical issues like coronavirus disease. This type of technology is expected to play a crucial role in the future of outbreak monitoring, as it can spot an outbreak in less time and aid governments, hospitals, and businesses to make more informed decisions.
Medical software product development
Join the future of medical innovation with TechSlice. As a software product industry with a focus on healthcare, TechSlice is ready to support businesses and entrepreneurs during every step of their product journey.
By partnering with TechSlice, you will have access to the services of a dedicated team experienced in software platform development, security, hospital and device integrations. Likewise, you will receive all the help you need in strategy, hardware evaluation, and much more.
The TechSlice approach lowers the technical barriers of healthcare software implementation while making the launch of a startup more affordable. Thanks to the backing of a talented service team, you are guaranteed to have all the resources you need, when you need them.